Biggin-by-Hartington, as the village is also known, is a small rural village just off the main A515 Buxton to Ashbourne road. This is the former turnpike road of 1738 from Derby to Manchester, leading over the high limestone plateau of the White Peak area of Derbyshire. Biggin lies at the heart of many old and important paths. An ancient packhorse route from Hartington to Wirksworth passed through the village before following Cardlemere Lane, Cobblersnook Lane, Minninglow Lane and then Gallowlow Lane. Before 1770 it is thought that copper ore from Ecton was carted along this track to the smelt works at Denby. Biggin also lay on an old saltway and drovers road along which centuries ago cattle and sheep were walked to the annual fair at nearby Newhaven.
The former railway line ran close to Biggin and this has now been turned into the Tissington Trail, providing a safe route for walkers, cyclists and horse riders. The trail is 13 miles long and was originally laid as the Buxton to Ashbourne Railway in 1899. During World War II, Manchester to London Express trains transported milk from the Peak District to Finsbury Park in London along this section of track. The railway line closed in 1967 and was purchased by the Peak Park for a nominal amount before being opened as the Tissington Trail in 1971.
Biggin, sitting at an altitude of around 1000ft, was first mentioned in 1223AD when it was called Newbeggin. It consisted of a grange with several small farms, owned by Garendon Abbey and farmed by monks of the Cistercian order. All that is left of those early years is a small part of the original buildings at Biggin Grange. There is a pinfold still be to be seen in Biggin which has recently had its walls rebuilt. The pinfold was where stray sheep and cattle would be kept and only released upon payment of a fine. It is situated at the entrance to the village hall which was built in 1987 with public donations.
Close to Biggin is Liffs Low or The Liffs as it is also known which has a stone-aged barrow, an ancient 'Beaker' burial ground or tumuli, which when excavated was found to contain two flint axes, two flint spearheads, two flint knives, two arrow-heads, an antler hammer and a beaker.
A little farther down the village are the Waterloo public house and Biggin Hall. There used to be two pubs in the village and the sign for the other one, now closed for quite a number of decades can still be seen on a building in the yard. This pub, like most others in earlier years in the Peak District, would have been run on a part time basis, with the landlord probably having been engaged in either agriculture or lead-mining.
Biggin was once particularly noted for its sheep and cattle markets, of which there were several throughout the year. There used to be as many as 14,000 sheep sold there a day, which gave a lot of trade to the local pub and provided part time employment for anyone who wanted some extra cash. Now-a-days they're sold at Bakewell in the new market.
Biggin Hall dates from the 17th century and reputedly has the datestone 1642 on a stone somewhere within. It is an extremely quaint looking building with mullioned windows and an ancient oak front door. Biggin Hall is a really imposing building with fine exterior and lovely wooden panelled interior, that a number of years ago became a luxurious Country House Hotel. Here non-residents can visit for cream teas, lunches and absolutely amazingly good value and high quality evening meals, when space permits.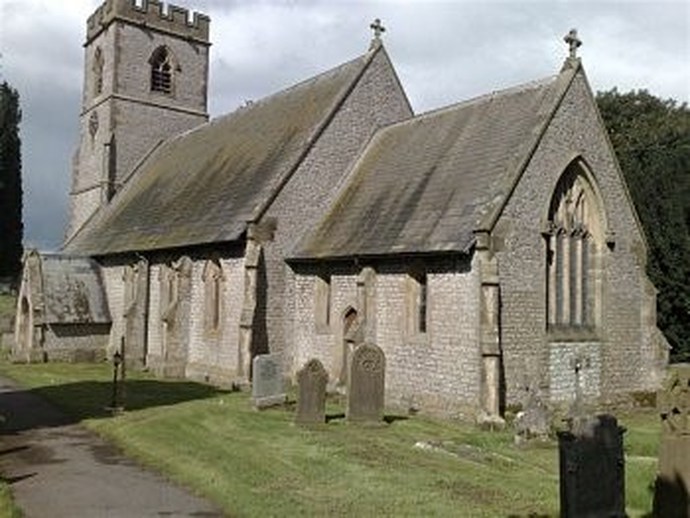 The Church, dedicated to St Thomas was consecrated in 1848 and was built of limestone acquired from a nearby field on the Liffs Road, much of the money being raised from public subscription and also voluntary labour.The church was built to a design by E. H. Shellard between 1844 and 1848 when the hamlet was formed into an ecclesiastical parish separate from its mother church at nearby Hartington. It was built in an Early Gothic style on a site given by the Duke of Devonshire and it consists of a chancel, nave of five bays, south porch and an embattled tower at the west end containing one bell and a clock with two dials which was presented in 1899 by Mrs Wraith of Darwen to the memory of her father the late William Dain of Biggin and his elder brother Henry. An annual flower festival is held each July with pupils and staff from Biggin Primary being responsible for one of the displays. The children attend a monthly service in church and regularly attend family services.
Until recently Biggin villagers were mostly employed in agriculture, although a number work at the nearby brickworks and until recently others worked at the Hartington Creamery, famous for its Stilton Cheese. There are quite a number of dry stone wallers living in the village, including one who has been National Dry stone Walling Champion two years on the trot, who now, together with his son, who won the amateur National Drystone Walling championship, accepts commissions for work abroad, particularly in the United States.
There used to be the Annual Wakes. On the Monday the school would close at lunchtime, and the schoolchildren would follow a band as it led the banner and members of the 'Loyal Order of Shepherds' around the village. Before the advent of the Social Security system after the Second World War, people would join societies like the Ancient Shepherds, paying a few pence weekly into a fund and then in times of sickness they would receive a small sum of monies. There would also be a fair during the Wakes and a dance where tea and sandwiches were provided.
King George IV once stayed at the nearby Newhaven House Hotel on his journey north. He was so impressed with the friendly hospitality that he gave the hotel a perpetual license. It closed down a decade or so ago and is in the slow process of being refurbished. Carriages Restaurant is situated at Newhaven where delicious home cooked Italian meals are served.
Biggin has so far not gone down the route of second homes and holiday cottages, with the majority of residents having been born in the village as the majority of houses are occupied by local residents. There are substantially more families than in other villages, and this village can truly be described as a working village.
Even though this village is over 1,000 feet above sea level, it can be entered by a gentle descent from all sides, (particularly from the main Buxton – Ashbourne route) as its spreads unevenly over a shallow saucer. The village is currently well known for its proximity to the popular Tissington Trail, a former railway line, now a walking and cycling trail, which links Ashbourne to Hurdlow and passes through the upper end of Biggin. The White Peak cycle route, which is also part of Sustrans Route 54, and which primarily consists of off-road routes, passes through the village linking two bridleways at each end of the village.
From Dale End at the bottom of the village there is a grassy track leading down to Biggin Dale which gently leads down to meet the river Dove at Wolfscote Dale, emerging opposite Peaseland Rocks.
There are several caravan sites in the area as during the summer months this is a popular tourist centre, with Biggin being well situated for walks around Wolfscote Dale, Beresford Dale and with the Tissington Trail passing close by. Biggin Dale itself runs down to the Dove at Wolfscote Dale and is a National Nature Reserve. Most of the time it is a pleasant limestone dale but during periods of heavy rain, underground waterways emerge from springs, producing a lively water course.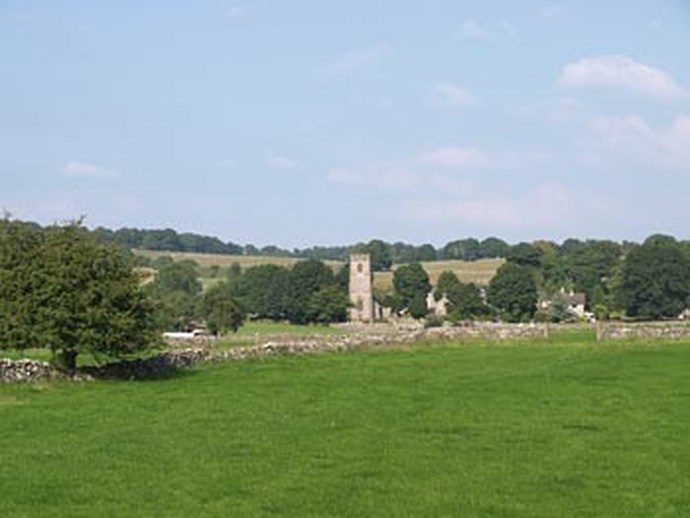 Biggin is also superbly situated for walking with numerous footpaths and bridleways in the vicinity. Biggin Dale runs from Dale End at the bottom of the village down to the River Dove and in its early stage it partially en-circles Cotterill Farm and its cottages. The Dale is a National Nature Reserve, a little over one mile long, and is usually dry although in wet winter weather water boils up usually about half way along its length. Three quarters way down there is an old lead mine, about 50 feet long, which children in particular like to explore. There are some lovely wild flowers in the Dale particularly in spring when cowslips and gorgeous early purple orchids can be seen.